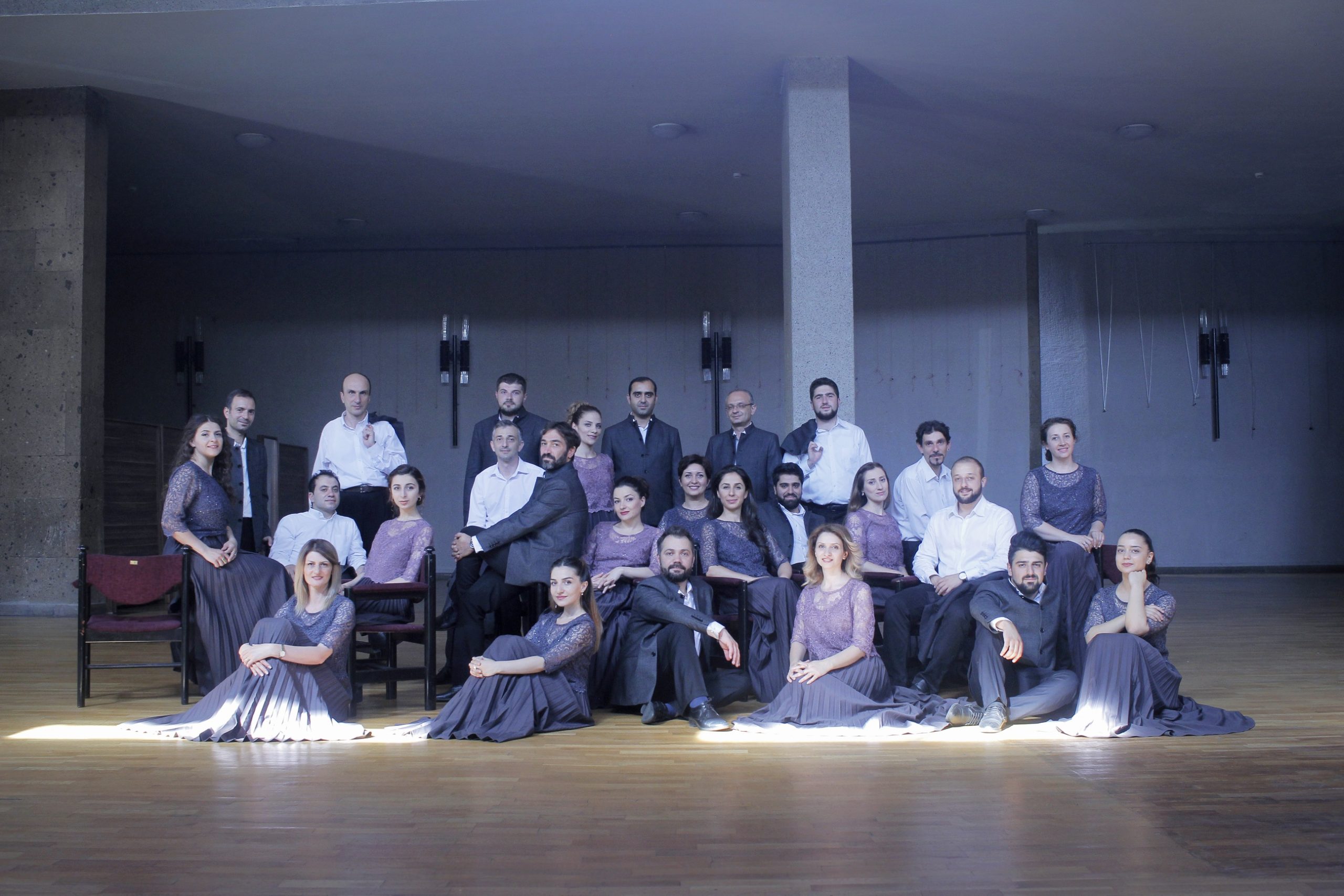 "HOVER" STATE CHAMBER CHOIR
Artistic Director and Principal Conductor: Sona Hovhannisyan
"Hover" State Chamber Choir has been founded and conducted by Professor of Yerevan Komitas State Conservatory, Honorary Worker of Art of the Republic of Armenia Sona Hovhannisyan. In 2017 the choir celebrated its 25th Anniversary.
"Hover" State Chamber Choir is open to all genres of choral music. The choir appeared in prestigious concert halls and on the stages of "Teatro Dal Verme" (Italy), "Тhéâtre Nanterre-Amandiers", "Cité de la Musique", "Le Quartz" (France), "Strathmore Hall", Tchaikovsky Concert Hall (Russia), "Carnegie Hall", Lincoln Center – "Alice Tully Hall" (USA).
The choir initiated different choral-theatrical performances, large-scale vocal-symphonic, operatic and chamber traditional as well as experimental projects as staging of the Dance songs by Komitas, choral-theatrical performances "6 Fables", "The Parallel", adapted version of "Anoush" opera, non-traditional arrangements of folk songs of Aparan region, and participated in different regional and Artsakh projects.
The choir permanently collaborates with the Armenian National Philharmonic Orchestra (ANPO), the National Chamber Orchestra of Armenia (NCOA), the State Youth Orchestra of Armenia (SYOA), the "Yerevan Perspectives", "Golden Apricot", "Komitas", "Aram Khachaturian" festivals as well as with a number of other orchestras, choirs and festivals in Armenia. In cooperation with Eduard Topchjan and the Armenian National Philharmonic Orchestra "Hover" choir has realised the staging of dozens of operas ("Eugene Onegin", "Tosca", "Cavalleria Rusticana", "Il Barbiere di Siviglia", "Madame Batterfly", "I Pagliacci", "La Boheme", "Arstvaberd" and others).
The choir appeared with concerts in Italy, France, Great Britain, Germany, Austria, Russia, Poland, Taiwan, Belgium, Estonia, Lithuania, USA, Lebanon, Switzerland and Slovenia. It has taken part in a number of international choral competitions and festivals in Linz (Austria), "Gaude Mater", "Logos", "Ludwig van beethoven Easter Festival" (Poland), "Festival van Vlaanderen" (Belgium), "Les Sacrees Journees", "MIDEM", "Polyfollia" (France) and Valery Gergiev's Easter Festival, "Просветитель" (Russia), "La Fabbrica del Canto", "Südtirol" (Italy), "MustonenFest" (Estonia), "Beiteddine Art Festival" (Lebanon), "The International Music Festival of Sion Valais" (Switzerland), "Emilia-Romagna" (Slovenia) and "Rhein Vokal festival" (Germany).
"Hover"'s performances of compositions by S. Gubaidulina, R. Shchedrin, K. Penderecki, G. Kancheli as well as a number of other prominent contemporary composers have gained great appreciation. Hover State Chamber Choir has appeared with a number of prominent musicians and composers, among them G. Kremer, A. Mustonen, R. Shervenikas, D. Geringas, J. Nelson, M. Klauza, B. Kutavičius, L. Shambadal, F. Helgath.
"Hover" State Chamber Choir was awarded a Gold Medal of the Ministry of Culture of Armenia. The choir has recorded 7 CDs.